Tips for Acing the TOEFL on your first attempt
If you are looking to pursue your higher education studies in the United States, you are most likely aware that the TOEFL exam is a prerequisite for all international students, regardless of if you are looking to do a bachelor's degree or a master's degree.
The Test of English as a Foreign Language, commonly known as the TOEFL, is an English proficiency test that measures your reading, listening, speaking, and writing skills. It is designed and administered by ETS (Educational Testing Service), a private, non-profit organization. Its purpose is to determine your ability to succeed at an English-speaking university.
For this reason, our experienced crew here at Zinkerz has designed several tips that will greatly increase your chances of acing the exam on your first attempt.
Prepare and familiarize yourself with the structure of the exam
You should treat the TOEFL the same way you would treat any other exam. For this reason, planning and preparing yourself beforehand is essential if you want to ace the test on your first try. The TOEFL is taken online at proctored testing sites and is offered more than 50 times per year at locations all over the world.
As we mentioned above, the TOEFL exam is divided into four sections: reading, listening, speaking and writing. Each section has its own time limit, so time management is key. The chart below, provided by ETS, describes the times and types of questions in each section.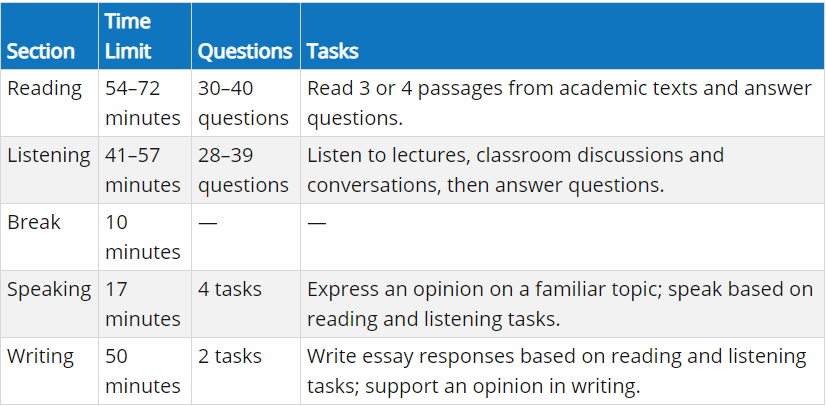 After several years of experience, research, and testimonies from students and teachers, we have determined that the best chances of success are shown when the student prepares at least 6 months prior to the exam. Taking TOEFL prep tests, practicing sample questions, and reading and listening to different English accents should all be part of your strategy for studying.
We here at Zinkerz specialize in TOEFL guidance by offering online self-prep courses and live, one-on-one prep courses.
Understand your scores
TOEFL exam is scored out of 120 and each section has a score of 30. This is not an exam that you pass or fail, but rather each university has different requirements. The test is graded by random ETS-certified test scorers and artificial intelligence. The chart below, provided by ETS, illustrates the performance descriptors for the different score ranges of each section.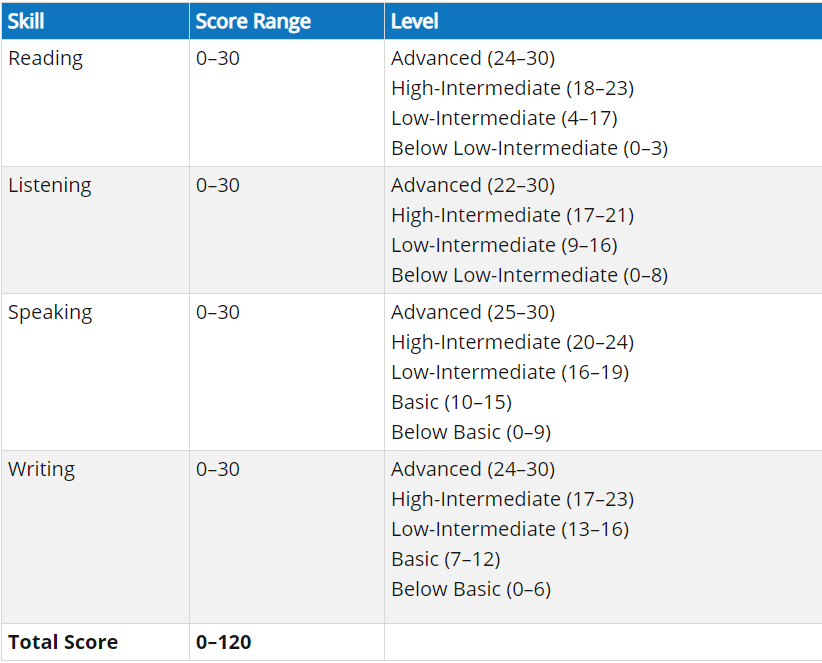 Some universities will even have specific requirements for individual sections of the TOEFL exam, such as having a minimum score of x on your reading section. Postgraduates students also tend to face stricter criteria than undergraduate students, especially those looking to pursue business programs.
It is very important that you research the universities that you are interested in applying to so that you know their individual requirements for the TOEFL exam. Taking prep tests will provide feedback for measuring your progress when you are aiming for a particular score.
Build your Vocabulary
If you are aiming for an awesome test score, it is very important that you build your vocabulary for the TOEFL exam. The test will most certainly include questions from different topics and sometimes the words will be very unusual. Reading and writing go hand in hand when you are trying to expand your word knowledge.
As part of your studying strategy, you need to make sure that you are doing a lot of reading in English. Books, magazines, news articles, and blogs will help you understand new words as long as you are doing it constantly. You should also aid yourself by practicing reading comprehension questions and writing summaries about the things you read. This will help you develop improved writing skills as your brain is trained to absorb more information.
Develop note-taking skills
A whole section of the TOEFL exam is dedicated to listening comprehension. In the test, the audio is played only once so when there is a listening part, you can't go back to listen again once the recording has played. This is where note-taking skills become vital so that you can keep track of the information you are listening to and be able to answer the questions.
You can practice by listening to podcasts, TED talks, and YouTube videos, and by taking notes as you go along listening. Don't try to write down everything you hear, but rather pay attention to essential information that you can later go back to for writing your summary. You will figure out that the more you listen, the more information you are able to understand and absorb.
Be creative about the way you prepare. Practice your speaking fluency by conversing with another English-speaking friend. Next time you are watching a movie or TV show, try watching it without subtitles and you will realize that you are grasping more and more information as you progress.
Be prepared on Test DayTaking the TOEFL is always a stressful experience, but you can make it less painful if you prepare for your test ahead of time and feel comfortable with your skills. Take it easy the day before, get a good night's sleep, have a healthy breakfast, and remember to bring your ID the day of the exam. Remember that you have been preparing for the past 6 months and that all your efforts will pay off once you get that amazing score that you have been striving for.